PBS will soon premiere a new documentary entitled
The Press Secretary
, (check local listings) which was written and directed by Ted Bogosian and for which Barry Levinson and I served as executive producers.
The Press Secretary
is a first-time look inside the media encampment that surrounds the Oval Office. I say "first-time look" because Ted got unprecedented access to the private, usually off-camera meetings of President Bill Clinton, Press Secretary Joe Lockhart and other staff members during the waning days of that Administration. What you will see is the sometimes delicate, sometimes brutal dance that goes on every single day between the President's men and the press corps. It makes an episode of The West Wing seem tame.
Also, Ted's use of archival footage -- especially black and white film featuring John F. Kennedy, talking to a handful of reporters -- is a stark contrast to Clinton, shot on HD, mobbed by the international press.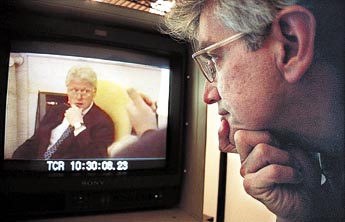 (AP Photo/Tina Fineberg)
Ted looks at an image of Clinton on a monitor during the edit
Recently, a panel discussion about the film was held at the National Press Club in Washington, D.C. featuring John Roberts of CBS, Susan Page of USA Today, Jim Angle of Fox Cable News, Mister Lockhart and Ted. During the lively and honest debate, I was once again struck by how bizarre the people who call D.C. home are.
Now, I know it's odd for a guy in show business to call any other profession "bizarre", but whereas actors, directors and (God help us!) even writers have egos, we are, at least out in the world, examining and reflecting on various aspects of American life.
In Washington, they (and I use "they" to refer to both the politicians and the press) are much more insular - As if, in their minds, the entire world only exists in the 44,160 acres that make up the District of Columbia. They care more about what goes on on Pennsylvania Avenue than in the entire state of Pennsylvania. They seem very intent on playing the game of not letting each other know what they know. Information as power.
Still, I found that all the panelists (and the people in the documentary) do truly believe that they have the country's best interests at heart.
How Ted was able to get these Beltway insiders to open up so freely is astonishing. But then again, he did the same thing to us on Homicide.
You may recall that Ted wrote, produced and directed Anatomy of a Homicide: Life on the Street , which was broadcast on PBS in November, 1998. A look backstage at the filming of a Homicide episode, Anatomy was nominated for two Emmy Awards.
Ted recently served as executive producer for the PBS broadcast specials Lost Treasure of Christianity , Running Mate, and War in the Wind. He was series producer of the 6-hour PBS series Space Age, a co-production of WQED-Pittsburgh and NHK/Japan in association with the National Academy of Sciences.
In 1990, Ted created, wrote and produced the pilot for Where in the World is Carmen Sandiego? From 1978-85, he was a film producer for WGBH's award-winning Nova science series. He has also reported for Good Morning America and The McNeil-Lehrer Newshour.
Ted's programs have won several important national and international awards, including national and local Emmys, a Writers' Guild of America Award, a Chicago Film Festival Gold Plaque, as well as the recent DoubleTake Roland House High Definition Prize for The Press Secretary.
I hope you'll try to catch this illuminating fifty-eight minute documentary. I'm very proud to have my name associated with the project.
Tom Fontana's Diary
10 September 2001

These are links to articles with more information about Ted and the documentary
FESTIVALS: Doubletake Boosts Attendance and Spirits
Floridian: Films in search of screens
Clinton reporting was daily 'battle'
No free lunches and no one-hour solutions